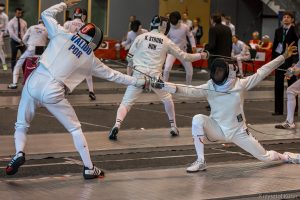 And we know the finalists. Today 49 athletes split into two groups competed for the spots in the final of Junior European Modern Pentathlon Championships 2016 which will be held on Saturday. 13 of them had to say goodbye to the championships and 36 will fight for the podium. After three events up front in Group A was Bugra Unal from Turkey, followed by Daniele Colasanti from Italy and Daniel Ławrynowicz, Poland.
Group B standings were the following: Gainluca Micozzi (Italy), Gustav Gustenau (Austria) and Adam Price (Great Britain).
Top scores:
Fencing: Aleksander Lifanov– Russia 21V- 2 D
Swimming: Gustav Gustenau– Austria- 2:02:25
Combined event: Gregory Flayols– France 11:14:92
Today, there also was the final women's fencing event (ranking round). The winner was a Hungarian, Sarolta Simon, Francesca Tognetti came second while Volha Silkina was third. The best out of Polish, Natalia Dominiak finished 28th, Marta Kobecka 29th and Magda Klemczyńska 30th.
Tomorrow the final men's fencing event will take place as well as individual women competition will be finished.